Beat you ! iiRcade announces that Stadium Hero '96 is now available in the Game Store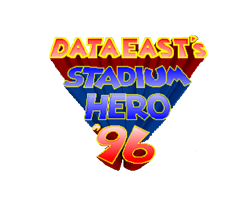 Stadium Hero '96 is a really fun baseball game that our iiRcade community will enjoy and I am so happy that we are releasing an amazing baseball game this baseball season.
CHICAGO (PRWEB)
June 11, 2021
iiRcade Inc., the ultimate connected arcade machine that lets gamers of all ages play their favorite retro and modern games in arcade style at home, is pleased to announce that Stadium Hero '96, originally developed by Data East and officially licensed by G-MODE Corporation, is now available in the iiRcade store.
Released in 1996, Stadium Hero '96 is an arcade baseball game that allows players to select fictional teams from eight different countries that all have different pitch, strike and speed ratings.
The nine-round game features fully animated players for smooth gameplay, special hitters and pitchers with superhero powers that are used in clutch situations and a "ball cam" for a unique perspective of view.
"As a huge baseball fan myself, I am extremely happy to add Stadium Hero '96 to our iiRcade line," said Jong Shin, Founder and CEO of iiRcade. "Stadium Hero '96 is a really fun baseball game that our iiRcade community will enjoy and I am very happy that we are throwing an amazing baseball game this baseball season."
iiRcade enables cinematic arcade gaming experiences via a 19-inch high-definition screen, 100W dual stereo speakers, premium arcade joysticks, and gaming-optimized hardware and software. iiRcade also incorporates the latest features, such as WiFi 5, Bluetooth 4.2 and HDMI output, which provide arcade experiences for today's gamers.
Each iiRcade comes with 11 preloaded games: Dragon's Lair, Double Dragon, Gunbird, Beach Buggy Racing, BombSquad (online multiplayer board game), Snowboard Championship, Diver Boy, Dragon Master, Maniac Square, Twin Brats and Fancy World.
All games are officially licensed and available at affordable prices, and new titles are continually being added to the growing library of the iiRcade store. The iiRcade store can be accessed on phones or through a browser on PC or Mac via the iiRcade Store link.
A full list of games currently licensed and slated for release on the iiRcade Store can be found here.
Beyond the original design, iiRcade comes in three premium versions: RetroMania Wrestling Edition, Dragon's Lair Edition, and Black Edition, which allows users to design their own cabinet graphics and comes with officially licensed Double Dragon stickers. which can be placed on the cabinet as a Free Gift. Each premium version includes upgraded 128 GB storage memory and original Sanwa joysticks.
For more information and to order iiRcade, visit iiRcade.com.
About iiRcade

iiRcade is a premium arcade gaming experience like no other. Play retro arcade games that you remember from the latest modern games in amazing arcade style. With cinematic gaming experiences powered by a 19-inch high-density screen, 100W of powerful stereo sound, premium 2-player arcade controllers, and a device optimized for the best arcade gaming experiences, iiRcade offers arcade games so immersive you will feel like you are inside the game.

Share the article on social media or by email: