Local Game Store Hosts LGBT Dungeons & Dragons Nights | Culture & Leisure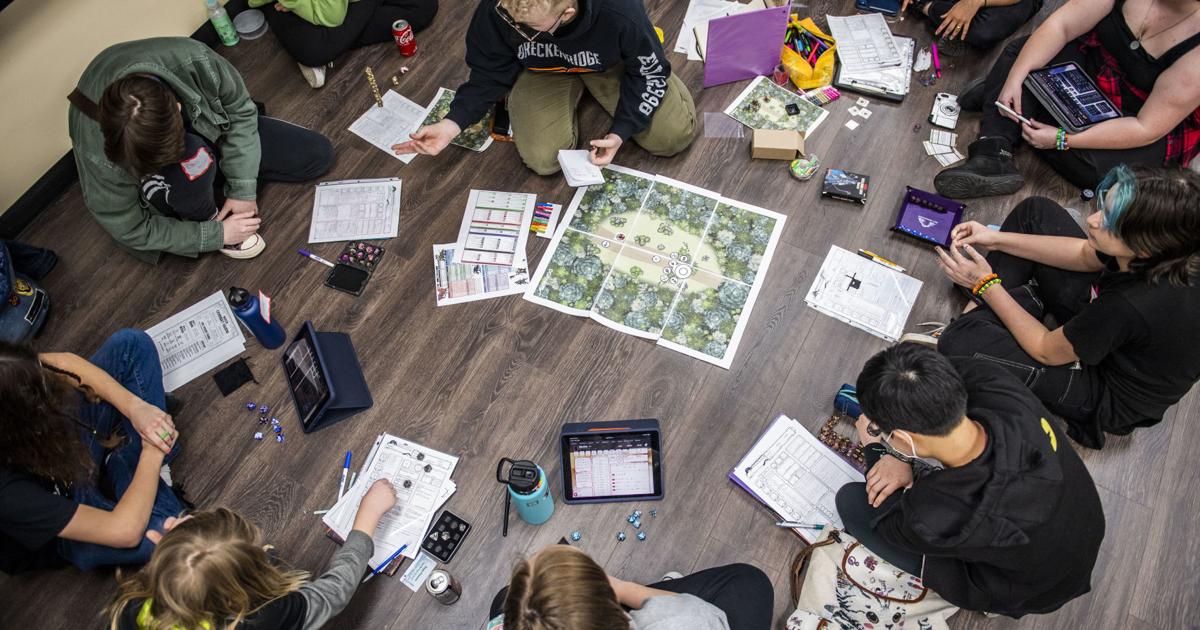 AAfter being tasked with a quest, the adventurers set out for the nearby town. But in the darkness of the path, they slowly found themselves surrounded by monstrous trees that gave way to an even more threatening enemy: a giant… bushy monster?
Such is the way of things in the Dungeons & Dragons fantasy tabletop role-playing game, where truly anything can happen. Moe Rosencrantz, a 15-year-old student from Urbana High School, was the "dungeon master" of the above encounter, meaning it was his job to lead a group of delighted players through a series of challenges and encourage them to improvise new solutions.
Rosencrantz was just one of many at the April Fool's Day LGBT D&D party, a collaboration between local game store Saga Games, where the event takes place, and the Frederick Center. Organizers of the event said it served as a safe space for members of the LGBT community to take part in a hobby near and dear to their hearts.
But first, a bit of background, for those who aren't in the know.
Dungeons & Dragons, according to its publishing company Wizards of the Coast, is a role-playing game created in the early 1970s by game designers Gary Gygax and Dave Arneson. The game allows players to create a character by choosing from a number of fantastic species, like elves and dwarves, and classes like wizards and monks, creating something unique to their specific needs. A separate player, referred to as the Dungeon Master or DM, plays any other character players may encounter and provides them with challenges to overcome.
Over the years, the game's popularity has grown tremendously, with a significant sense of community developing around the pastime. For Millicent "Mimi" Hall, owner of Saga Games on Old Farm Drive in Frederick, fostering that sense of community is part of why she wanted to open the store in the first place. Hall said that as a woman-owned game store, it's important for Saga Games to help break down the barriers around a hobby that has historically been dominated by men to allow for greater inclusion.
"Just by being open, just by having a face that's not the same as what you normally see, we get a lot of women and members of the LGBT community coming in and saying, 'Oh my God, there's someone else here," Hall said. "It makes for a more friendly and inviting space because you know you're not alone."
Hall, from his own experiences and those told to him by some of his female clients, said that there have always been problems in the amateur gaming community with accepting people who are not male.
"We get so many women in [the store] which are just like, 'I've been to certain places, and everyone turns around and looks at me,'" Hall said. "When you walk into our store, no one will ask you, 'Are you buying this for your boyfriend or your husband?' We'll assume you're here for yourself.
Glorie Casutto, program director at the Frederick Center, said Saga's focus on inclusivity made her an ideal partner for the LGBT advocacy organization. Although Casutto said they had never played Dungeons & Dragons before, they saw how it allows players to explore self-expression.
"When it comes to D&D, I agree that it's so, so special," Casutto said. "Having to be whoever you want in that moment is a huge opportunity for gender expression. A lot of people don't have accepting people in their lives who can change pronouns very quickly. … They really can be whoever they want on that day and step into it, and it's a really good opportunity to learn more about yourself and get a little perspective on how you like to be. called and how you like to introduce yourself. others. It really is a tremendous opportunity for gender and self-expression.
Back to Rosencrantz and the bush monsters. Rosencrantz is the DM of the youth table at LGBT D&D parties, and he says getting into the hobby has helped him meet some great people, especially those in the LGBT community.
"It's fine. I've been DMing for a little while," he said, referring to the act of running the game as a dungeon master. the best people to play D&D with. It's really nice to find a community within the community.
Rosencrantz was one of many people at the event. According to Hall, LGBT D&D parties are regularly among the store's busiest event nights.
Frederick Center board member Bastion Browning was also there to roll the dice. They said they started playing the game about five years ago and said it was great to have a dedicated space for members of the LGBT community to gather and share the hobby.
"It's really nice to feel welcome," they said. "In society it's very easy to feel unwelcome almost everywhere you go, but if you look you can see signs of acceptance here and there. Whether it's a flag in the window or a sticker or just having [events] like that."
Another player, Megan Campbell, said the game store has been a great way to make friends since moving from out of the area. "I'm really happy to have found this place," she said. "It was really nice for me to come and meet people, because even when it's not explicitly LGBT, the store tends to be very inclusive."
Campbell said her character — a member of the stereotypically menacing orc species who walks a holy and righteous path — combines aspects you wouldn't expect to go together.
"I like the role-playing dynamic of it," she said of playing a character with mixed expectations. "He's someone who is very different and knew he was different, who went out and saw what the world was like outside of his bubble."
Saga Games is hosting an LGBT D&D night every other Friday at 6 p.m., with the next event taking place on April 15. To hear a full podcast interview with Hall and Casutto about the start of the night, go to the Frederick News-Post website.
Follow Patrick Kernan on Twitter:
@PatKernan
Mary Grace Keller contributed to this story